Loutron

Nombre de messages

: 7535


Voitures

: Citroën Xantia 2.0 Exclusive


Date d'inscription :

25/02/2019

Nicko étant toujours ultra réactif, je suis étonné qu'aucun sujet n'existe pour
cette horreur
ce nouveau concept !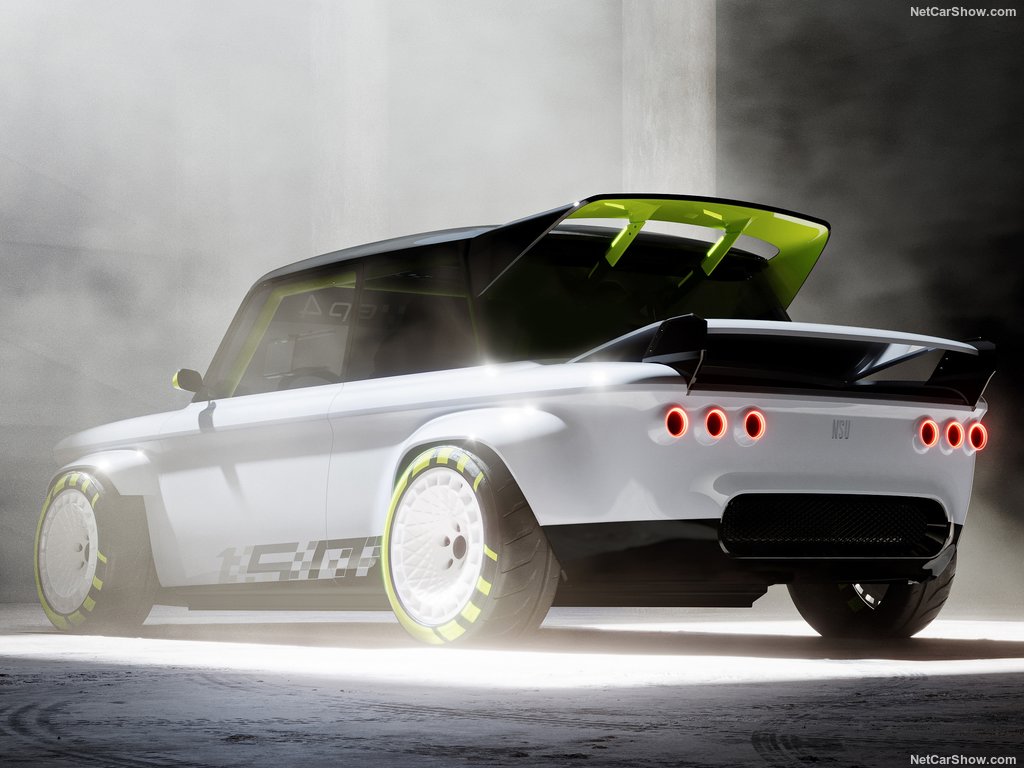 To mark the 150th anniversary at the Audi site in Neckarsulm, twelve apprentices at the Four Rings electrified an iconic classic car. On July 8, 2023, trainees from the automotive mechatronics, bodywork, and vehicle construction mechanics and painting courses proudly unveiled the "EP4". The "E" stands for electric drive, and the "P4" for the NSU Prinz 4, a model produced in Neckarsulm by NSU Motorenwerke from 1961 to 1973.

"We wanted to build a car that was not only fast and looked cool but also honored the 150th-anniversary of the site," says Dean Scheuffler, an apprentice automotive mechanic at Audi in Neckarsulm. The perfect starting point: an NSU Prinz 4 built in 1971, which had been off the road for decades until its resurrection in January 2023. The apprentices awoke this "prince" from its slumber and fitted it with a new high-voltage heart.

But it was a long roadfrom the project launch in January to the big reveal at the Family Day. In numerous team meetings, trainees, trainers, and project managers exchanged views on the project's status, challenges, and next steps. The first task was to create a solid foundation for the conversion. Mizgar Doman Hassan, an apprentice bodywork and vehicle construction mechanic, recalls: "When we got the car, its body had several rust spots. These areas were the first thing we fixed."

The drive: electrifying and emission-free

While the budding body and paint specialists tackled the classic car's chassis and outer skin, the future automotive mechanics got to work on the powertrain, battery, and suspension.

Audi EP4 Concept (2023)
2023 Audi EP4 Concept
The rear of the "prince," where a two-cylinder gasoline engine with 30 hp (22 kW) once resided, is now home to a 240 hp (176 kW) electric motor. It comes from a 2020 Audi e-tron and gets its power from a battery from the plug-in hybrid Audi Q7 TFSI e quattro.

The battery sits under the front hood, where the NSU Prinz once had its fuel tank. The electrified machine breathes cooling air through a wide air intake at the bottom of the bumper, while heat can escape through a large opening in the front hood. The tailgate also improves cooling and can be fixed in a half-open position. Thus, it reveals the electric power plant and is reminiscent of historic racing cars based on the sporty NSU Prinz 1000. Where a row of open carburetor funnels gave onlookers clues about the sporting intentions of these cars back then, the EP4 now displays its electric motor.

The exterior: athletic and historic

For the apprentices, it was clear that their EP4 should proudly show that it began life as an NSU Prinz. The historic elements, therefore, include not only the front and rear lights. The body from the 1970s also retained its characteristic shoulder and roof lines. The apprentices freed the sheet metal from rust and painted it in Audi colors Suzuka Grey and Brilliant Black. Accents such as the anniversary lettering "150" were applied to the side of the vehicle.

The big leap in performance required extensive modifications to the chassis and the bodywork. A modified floor pan from an Audi A1, including brakes and axles, forms the base. The apprentices mounted the extensively modified and significantly widened body on top. The muscular fenders are unmistakably athletic. The apprentices designed these with the support of Audi Design and turned them into reality using 3D printing. Wide wheels are tucked beneath the fenders. Thanks to modern performance tires, they provide the necessary grip during acceleration and sporty cornering.

"The eye travels with you! We wanted the EP4's performance to be visible from every angle," explains Cynthia Huster, apprentice automotive painter. The rear wing, painted Signal Yellow, gives the EP4 a particularly sporty appearance. The twist: The wing is not attached to the bodywork, as in other vehicles, but to the roll cage. Its supports, therefore go through the rear window.

The interior: racing and minimalist

The Signal Yellow roll cage makes for an eye-catching contrast in the interior. Apart from that, the interior - typical of racing cars - is reduced to the essentials; all other painted surfaces are black. The occupants sit on "Recaro Podium" bucket seats.

A single-board computer and corresponding screen serve instruments and displays. They are also the vehicle's speedometer and onboard computer and perform diagnostic tasks.

Talents work with passion and forward-looking technology

In all the steps, the trainees put the knowledge they had acquired during their training to practical use. Timo Engler, Head of Training Vehicle Technology/Logistics, explains: "The project gave our apprentices a chance to work freely with different techniques and materials. For example, in addition to the electric drive, they used 3D printing, a second technology of the future. Carbon fiber - familiar from motorsport - was also used for the front hood.

But the trainees have not only learned a lot in terms of craftsmanship. Engler: "In the case of EP4, the vision and deadline were very ambitious. It's great to see how the junior staff have grown with their task and what a leap in development they have made as a team."

Last but not least, the trainees could get valuable tips and support from Audi's Technical Development anytime. In this way, they automatically learned a lot about Audi's processes and got to know various experts from other company branches.

History meets the future

Whether as symbols of the German "Wirtschaftswunder" (Miracle on the Rhine) or as racing cars that still score wins at hill climbs: NSU vehicles have made history and continue to inspire car enthusiasts to this day. With its charm and electric drivetrain, the EP4 stirs anticipation for the coming all-electric chapters in the continuing story of Audi's Neckarsulm site.

Audi Board Member for Human Resources Xavier Ros was impressed with the unique project. "With admirable commitment and considerable creativity, our apprentices have built a tremendous car. They can be really proud of the result," said Ros. He added: " Projects like this show that our company has a strong future thanks to our young talent."
'moR

Nombre de messages

: 5343


Age

: 35


Voitures

: Une watture


Date d'inscription :

29/08/2018

Sympa le C/C en Anglais
Loutron

Nombre de messages

: 7535


Voitures

: Citroën Xantia 2.0 Exclusive


Date d'inscription :

25/02/2019

C'est repris directement de NetCarShow, je ne suis pas Nicko faut pas rêver
cyrille

Nombre de messages

: 2627


Date d'inscription :

20/09/2016

2 ans après Opel, ils font un restomod, mais en version moche.
908LM

Nombre de messages

: 67839


Age

: 44


Localisation

: Montpellier 34!


Voitures

: 205 XS,205 GTI 1L6 rouge,205 GTI 1L6 de course..


Date d'inscription :

19/04/2008

Lulu c'est pour toi!
PhiLKX

Nombre de messages

: 125


Date d'inscription :

11/12/2018

GMU

Nombre de messages

: 11530


Date d'inscription :

05/08/2013

cyrille a écrit:2 ans après Opel, ils font un restomod, mais en version moche.
Moui enfin, c'est pas comparable.
Chez Opel c'est un projet officiel soutenu par la direction en démolissant un véhicule non restauré mais intact.
Là c'est un projet "officieux" sur une Prinz d'occasion achetée pour la circonstance et mangée par la rouille pour que des apprentis puissent se faire la main, comme c'est le cas régulièrement chez Skoda.
Après il y a deux réactions : se réjouir qu'un peu de passion se transmette d'une génération à l'autre et que des djeun's puissent apprendre sur des projets originaux..Ou bien dire "boouhh c'est moche" et irradier les sujets de négativité, ce qui semble être la réaction la plus courante ici comme sur les différents sujets des "concepts" Skoda.
Je vous trouve parfois tous désespérants.
(Accessoirement je suis encore et toujours circonspect quand je vois Loutron émettre une critique esthétique vu ce dans quoi il roule)
Loutron

Nombre de messages

: 7535


Voitures

: Citroën Xantia 2.0 Exclusive


Date d'inscription :

25/02/2019

J'ai bien envie d'être désespérant pour le coup, boooouh c'est moche
Permission de ce forum:
Vous
ne pouvez pas
répondre aux sujets dans ce forum